A perfect place for new business and corporate expansions. Our supportive business-friendly team looks forward to welcoming your business. Learn why Holliston is the right home for your business.
Permitting Guide
Annual Reports
Applications, Rules and Regulations
Building Department
www.townofholliston.us/building-department
During the 2015 fiscal year 695 building, 293 gas, 302 plumbing, and 515 wiring permits were issued. Of the building permits 31 of those were new single family dwellings. Overall this is an increase of overall permits by approximately 3%. The revenues generated from the fees' for permits issued during the year, and from other misc. fee's amounted to approximately $370,389. This shows an increase amounting to approximately 15% from the prior year. This is reflective of not only a stable construction industry within the community, but also a significant increase in valuation of the individual projects.
Contact:
Mark Kaferlein, Inspector of Buildings/Zoning Enforcement Officer (aka Building Inspector)
(508)429-0606
[email protected]
Board of Health
www.townofholliston.us/board-of-health
Contact:
Scott Moles, Health Director/Agent
(508)429-0605
[email protected]
Board of Selectmen
www.townofholliston.us/board-of-selectmen
Contact:
Travis Ahern, Town Administrator
508-429-0608
[email protected]
Conservation Commission
www.townofholliston.us/conservation-commission
Contact:
Ryan Clapp, Agent
(508)429-0607
[email protected]
Planning Board
www.townofholliston.us/planning-board
Contact:
Karen Sherman, Town Planner
(508)429-0635
[email protected]
Zoning Board of Appeals
http://www.townofholliston.us/zoning-board-of-appeals
Contact:
Karen Sherman, Town Planner
(508)429-0635
[email protected]
Resources for Business
New State Program: MassBizWorks
Job Listings
Safe Community Environment
2016-2017 Massachusetts Municipal Guide
Key Local, Regional and State Resources and Contacts
495/Metrowest Partnership
Referral Hub Holliston BNI
BioReady Status – Bronze
Holliston Business Association
Mass Development
Mass Office of Business Development
MetroWest Regional Collaborative
Metrowest Chamber of Commerce
Metrowest Economic Research Center
Metrowest Boston Visitor's Bureau
Zoning Bylaws
Zoning Map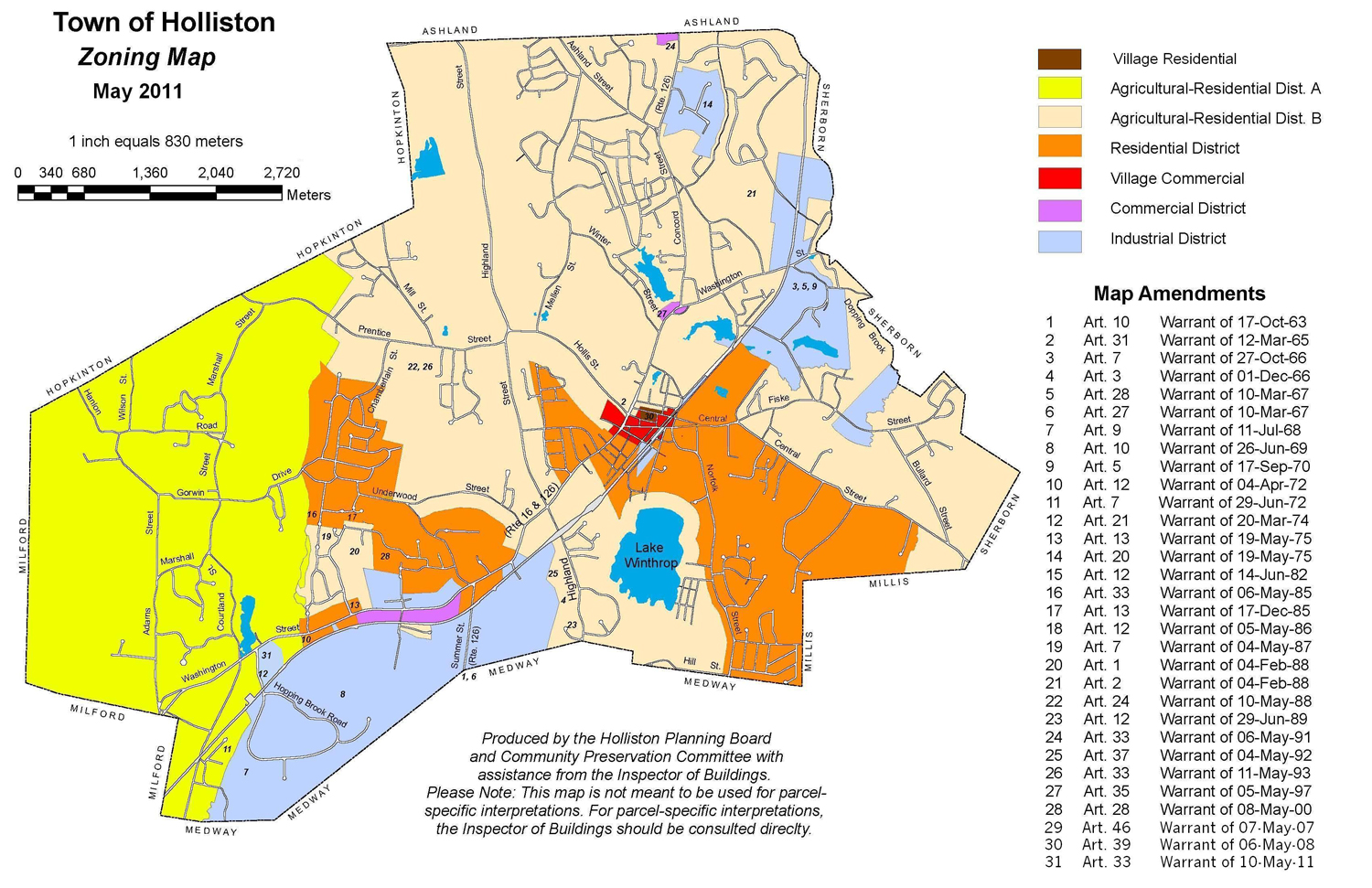 2017 Map Addendum